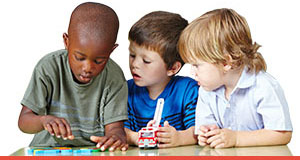 Developmental Screening Program
Join Help Me Grow's Developmental Screening Program today to support your child's development. Help Me Grow uses the Ages and Stages Questionnaire (ASQ).  It is used by many pediatricians and provides highly accurate results.
Join the Developmental Screening Program to
Track your child's development

Learn about your child's developmental strengths

Learn if your child needs extra support in an area

Help prepare your child for school

Receive personal assistance and referrals

What if I don't want to complete the screening on a computer?
No problem. Sign up today and we will send you a screening through mail or email.
Click here to complete an on-line enrollment form
Click here to print an enrollment form to send to Help Me Grow by mail
How will my information be used?
All information you enter on the ASQ (both on paper and online) is confidential and secure. Help Me Grow will not share your information unless you ask us to.
What Happens Next?
Once you submit your ASQ, staff will review it. 
In 1 – 2 weeks, you will be contacted by email or phone with your results.  You can talk to staff about your child.  You can ask questions and discuss any concerns you might have.  Staff will provide tips and activities to help your child grow.
You will continue to receive the ASQ by mail every 3 – 6 months until your child's 5th birthday.  Staff will continue to connect with you and discuss your child's progress.
Questions? Call Help Me Grow at 888-510-1122